Four Steps
Need for Parental Support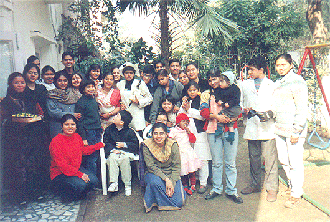 Four Steps is a Rehabilitation, Research and Training Centre for Children with Special needs that has been started under the aegis of Dalmia Sewa Trust, an organization associated with several philanthropic and social activities. Based on the premises that mental disability is a part of life, Four Steps intends to empower the children with special needs to move towards integration and self-realization. Psychological research has shown intelligence is dynamic and modifiable. Four Steps aims to synergies knowledge, resources and efforts to foster the ability of every child to grow to their maximum potential of self-sufficiency.

Four Steps, a single window, multi dimensional, psycho educational therapeutic centre with the objective of total rehabilitation and integration for children with special needs was established in April 2002. We have a team of professionals constituting Special Educators, Speech Therapists, Occupational Therapists and Psychologist working on different developmental aspects of the child.

We take care of children with:
Mentally Challenged and associated condition.

Learning Disability.
ADHD & Autism.
Downs Syndrome.
Poor scholastic performances and slow learners.
Emotional problems.
Excerpts from News papers
| | | |
| --- | --- | --- |
| | The Tribune (10.5.03) | Hindustan (12.06.02) |
| | Rashtriya Sahara (13.12.02) | Times of India (01.07.02) |
| | Statesman (12.12.02) | Financial Express (21.06.02) |
| | Telegraph (11.12.02) | Statesman (14.06.02) |
| | Hindustan Times (09.12.02) | The Tribune (10.06.02) |
| | Amar Ujala (05.12.02) | The Hindu (06.06.02) |
| | Jansatta (04.12.02) | |