Introduction
Educating The Mr Child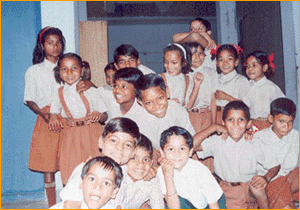 Education is concerned with everything that actively helps an individual to learn new skills and abilities. It is much broader than schooling. It is a process, which begins at birth, which involves the parents and extends throughout adulthood.

The aim for educating persons with mentally challenged is to fully develop their skills and make them independent and responsible citizens of society.

It provides for the unique needs of the child.

It provides for individual attention to the child.

It provides for the development of basic living skills for personal independence.

It provides a variety of experiences to the child as per age and IQ.

It provides a structured learning programme in accord with deficit skills.

It enables the child to gain social, emotional and intellectual development.

It is conducted for the child by especially trained persons.

It identifies problems and suggests ways and means to manage them.

It helps and guides parents.

The education of the child with MR varies with the nature of the disability. Education of children with mentally challenged requires function-oriented curriculum as they may not be able to qualify for the general secondary and higher secondary curriculum. Thus, their education is primarily in special schools with special curriculum. The curriculum may contain functional reading, writing, arithmetic including time, travel, money and other such skills. The curriculum of the moderately and severely challenged children emphasizes imparting of function-oriented skills. Other ways of education are home based and centre based education.

Educators should be involved in the development of the special child from the first weeks and months of life. Their task is to assess the needs of the child and to plan actively to assist his all-round development. Teachers not only work with pupils in special schools, but may also be concerned with helping those who are not teachers, in order to develop skills as special educators. This may include parents too. Education for the persons with mentally challenged is a lifelong process and it neither begins nor ends in school. It is not only limited to the schools and parents, but extends to the entire community.

The application of systematic methods of developmental planning based on thorough assessment of the needs of each child as an individual has shown that the development of even the most profound handicap can be actively furthered. It is equally clear that it is not enough merely to expose children to the condition of learning; they have to be actively taught.

Thus education is very important for the child with MR. It makes him capable and opens up new avenues in life.